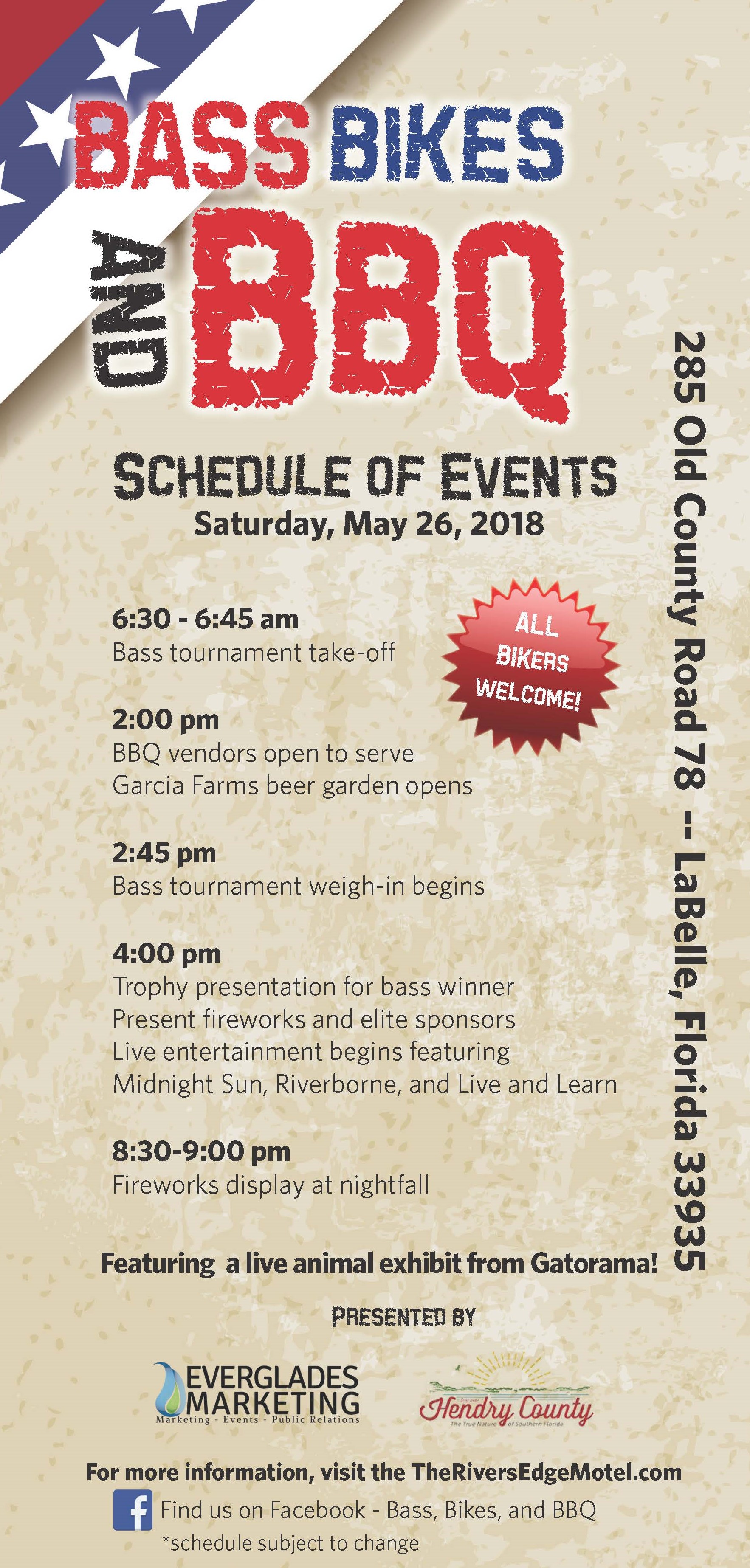 Bass, Bikes & BBQ
Directions to Bass, Bikes & BBQ
Parking on-site $5.oo
On May 26, 2018 The River's Edge Motel will host Bass, Bikes & BBQ: A Memorial Day Kick-off Event. As per tradition, the venue is hosting a fishing tournament that is open to anglers of all skill levels. These events on the Caloosahatchee bring anglers from all over South Florida to LaBelle to enjoy the river. The intent is continue highlighting what a treasure the Caloosahatchee is by promoting sport and recreation along local shores. Enlisting the help of (yours truly) LaBelle's own Everglades Marketing, the River's Edge Motel is gearing up for a Memorial Day Event larger than 2017.
New features this year include Barbecue vendors and a Bike Night. BBQ vendors are already signing up, including The George Show out of Clewiston. We are delighted to be able to offer an opportunity to area food vendors to showcase their skills and enjoy their hobbies and provide delicious dining options for our guests. After the weigh-in anglers, friends, families, and spectators will be able to fill their bellies while enjoying live music in a beautiful, waterside setting.
Fitting to the Memorial Day Holiday, we have partnered with our local American Legion to host a motorcycle poker run. All proceeds for participation will go directly to the American Legion and their community service efforts. The run will begin at the American Legion post in LaBelle then travel East to Clewiston on Highway 80 and 27. After the riders eat lunch in Clewiston they will travel to Glades County, stop at Gatorama and be welcomed by Patty and staff. Their travels will end at The River's Edge Motel where they will join in on the fun with the rest of the crowd!
In addition to the food vendors, merchandise and business displays Chef Taylor Sanders will be performing cooking demonstration on her Fire Disk Grill and meeting with fans. Chef Taylor, with roots in LaBelle, was recently featured on Food Network's Kids BBQ Championship Series where she took home $10,000 and was crowned the queen of barbecuing! Her skills have earned her a spot to train at the International Culinary Center in NYC whose alum include Bobby Flay, Dan Barber and more.
With live music, great food, cold drinks, cooking demonstrations, Socttie's Canvas boat display, an animal show by Gatorama, and fireworks this event is sure to have something for everyone! We hope that you will join us for the excitement. We would be thrilled if you would consider helping us make this event a success by spreading the word!
Other ways to show your support:
Tell us you'll be coming by visiting our Facebook Page Here: Bass, Bikes & BBQ
Join 250,000 listeners across 14 counties by tuning in to WINK 96.9 and 94.5 The Arrow for our radio spots in May.
Look for our Banner at K&M Drugs in LaBelle.
Distribute cards and invites at your business. Let us know how many and we will get it to you!
Become an event sponsor; sponsorship and advertising packages starting at $500
Become a vendor; booths starting at $75.
Call 863-675-6062 for more information